ssMaritime.com & ssMaritime.net
With Reuben Goossens
Maritime Historian
Part Four
ss OceanBreeze
Southern Cross, Calypso, Azure Seas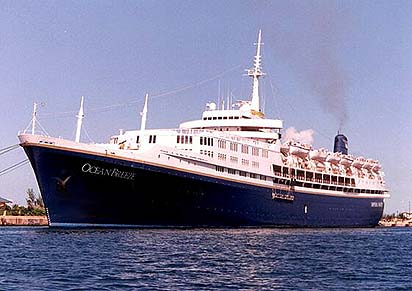 Imperial Majesty Cruise Lines elegant ss OceanBreeze
IMC
In 1991, Royal Caribbean Cruise Lines acquired Admiral Cruises who had no need for the Azure Seas being old tonnage. She was sold to Dolphin Cruise Line who was looking to add a third ship to their popular fleet consisting of Dolphin IV, and SeaBreeze I. The Azure Seas was now renamed ss OceanBreeze, and was given extensive renovations. Now registered in Aruba, ss OceanBreeze commenced seven night cruises around the Southern Caribbean and the Panama Canal. In 1996, she was relocated for cruising out of Florida, and New York.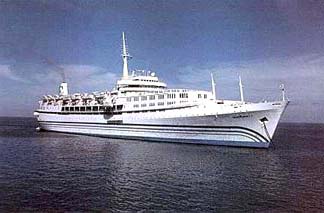 Dolphin Cruises postcard of the OceanBreeze
Author's private collection
Late in 1997, Dolphin, Seawind and Premier Cruises amalgamated. ss OceanBreeze continued her cruising duties under her new banner, but received bright new livery, featuring a dark blue hull, topped with a gold ribbon, and a dark blue funnel. She looked very impressive indeed, better than at any time during her past 54 years in service. OceanBreeze resumed her Panama Canal and Caribbean cruise service until early 1999, when the Ramada-owned Imperial Majesty Cruise Lines was created.
Links to our Photo Albums are located at bottom of this page

Author's private collection
IMC chartered the OceanBreeze from Premier Cruises and retained her livery, but replaced the Premier funnel logo with a white crown. Under Premier, her aft flanks had the name "Premier Cruises" painted on it. This was replaced with "Imperial Majesty." The IMC product was to operate year-round two night cruises from Ft. Lauderdale to Nassau in the Bahamas. ss OceanBreeze departed on her inaugural cruise from Pt. Everglades on January 11, 1999.

ss OcreanBreeze
From an IMC postcard
Due to the immense success of her short and affordable cruises, combined with excellent service, entertainment, and cuisine, Imperial Majesty decided to purchase the OceanBreeze outright on May 20, 2000. In September, ss OceanBreeze received a complete refurbishment, which in the words of the IMC President, Mr. Arthur Pollack, would see her "restored to her original splendour, making her a truly classic ship, with a modern and tropical ambiance." It is said that the ss OceanBreeze returned to her Ft. Lauderdale-Bahamas service with the well wishes of HRH Queen Elizabeth II, and she had sent her regrets for not being able to re-christen the ship. ss OceanBreeze continued her successful two night cruise duties to the Bahamas, until June 2003.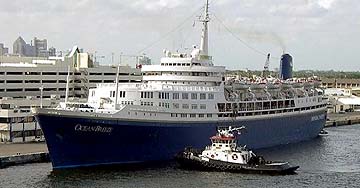 ss OceanBreeze is one of the last surviving ocean liners built by the
legendary Harland & Wolff Shipyard and worth our rescue campaign!
Photograph is © copyright the Dutch Cruise Site
After four years of faithful service, IMC made a sudden announcement on June 3, 2003. OceanBreeze was going to be replaced by another classic cruise ship, the Regal Empress (ex Caribe I, Olympia). Mr. Arthur M. Pollack, President Imperial Majesty Cruise Line, LLC told the author on 10 October 2003, that OceanBreeze was sold for the following three reasons.
1… IMC needed to spend US$ 5 million to make her ADA (American with Disabilities Act) compliant.
2… For short cruises, "The cost of operating a Steam Turbine vessel was prohibitive."
3… IMC required a ship with "bow thrusters." Thus, IMC decided on the option to purchase another classic ship that was on the market for what we might call at a bargain basement price at that time being the Regal Empress. She fitted all of the aforementioned requirements, saving IMC, according to Mr. Pollack, an operating cost of US$ 1.5 million a year.
It needs to be understood that OceanBreeze was not sold because of deterioration or mechanical failures, for she was in excellent condition, and described as "ready for trade." OceanBreeze was also in possession of a SOLAS (Safety Of Life At Sea) certificate, which is valid to 2010. OceanBreeze departed on her last cruise in June 2003, returning to Ft. Lauderdale three days later. The Regal Empress departed for her final two-night cruise to Nassau on 24 June.
--ss OceanBreeze Ft. Lauderdale - June 2003--
We sincerely thank Mr. Andreas Vurdubakis
of Imperial Majesty Cruise Lines for the following two photographs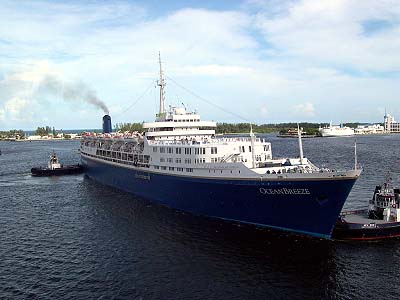 OceanBreeze still looking the grand lady she was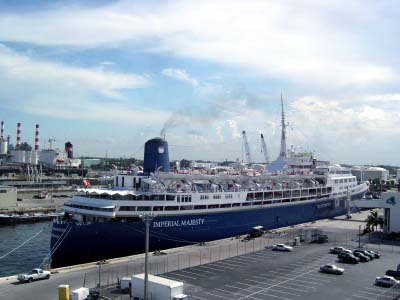 This fine photograph as it clearly shows her aft deck extensions
Two Brand New Photographs of ss OceanBreeze by Tim Rubacky © 2004
Return to the Southern Cross / OceanBreeze Index
Enter - Photo Page 1
The author wishes to thank, Mr. Arthur M. Pollack of President Imperial Majesty Cruise Line, LLC, and Celebration World Cruises, Inc, Mr Andreas Vurdubakis of Imperial Majesty Cruise Lines, Mr. Martin Hill - London, and Michael Barnes - Australia, for their valuable contribution to this article.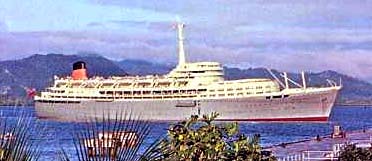 The Southern Cross, as we will always remember her
**************************************************
Use the Back button on your browser or Close the Page to return to the previous page
or go to our INDEX
Who is the Author of ssMaritime?
Commenced in the passenger Shipping Industry in May 1960
ssMaritime.com & ssMaritime.net
Where the ships of the past make history & the 1914 built MV Doulos Story
Also visit my …
"Save The Classic Liners Campaign" & "Classic Ocean Voyages" pages
Photographs on ssmaritime and associate pages are by the author or from the author's private collection. In addition there are some images that have been provided by Shipping Companies and private photographers or collectors. Credit is given to all contributors. However, there are some photographs provided to me without details regarding the photographer/owner concerned. I hereby invite if owners of these images would be so kind to make them-selves known to me (my email address may be found on www.ssmaritime.com only), in order that due credit may be given. I know what it is like, I have seen a multitude of my own photographs on other sites, yet these individuals either refuse to provide credit or remove them when asked, knowing full well that there is no legal comeback when it comes to the net. However, let us show these charlatans up and do the right thing at all times and give credit where credit is due!
This notice covers all pages, although, and I have done my best to ensure that all photographs are duly credited and that this notice is displaced on each page, that is, when a page is updated!
ssMaritime is owned and © Copyright 2010/12 - by Reuben Goossens - All Rights Reserved