ssMaritime.com & ssMaritime.net
With Reuben Goossens
Maritime Historian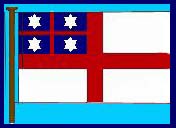 The official Shaw Savill flag
SS Southern Cross
Calypso, Azure Seas, OceanBreeze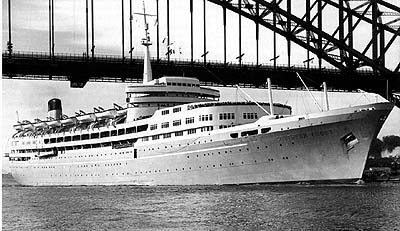 Southern Cross seen departing from Sydney Australia
Photo Album Page 1
Most images on this page are postcards originally issued by Shaw Savill Line, as well as other interesting images, all of which are part of the author's private collection. I trust that you will enjoy the memories this page presents. Do you have any interesting anecdotes of your experience onboard this fine ship, or any photographs you like to contribute, scan it, and send it per email. All items used will receive credit and a link if requested. Now go enjoy the delights of the ss Southern Cross!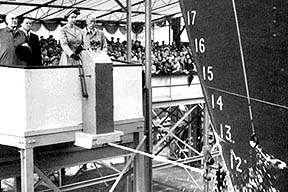 Queen Elizabeth II was the first reigning Monarch to launch a Merchant ship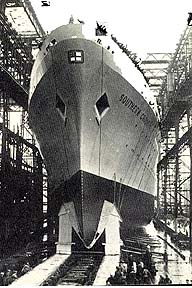 Southern Cross slowly heading down the slipway
The Ship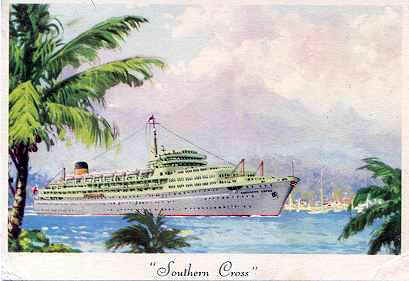 Above & Below: Shaw Savill issued a number of postcards with artist impressions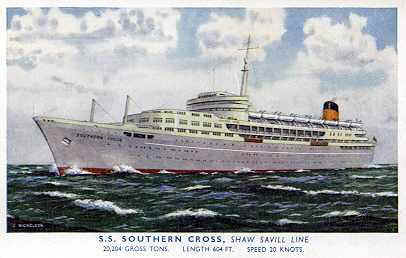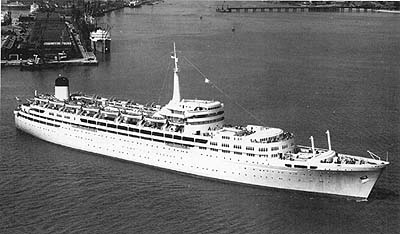 Above: A fine aerial view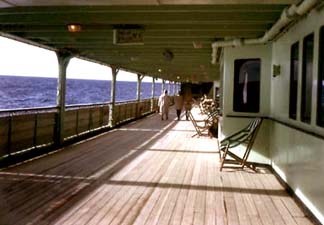 Above: Her spacious Promenade Deck – Photographer unknown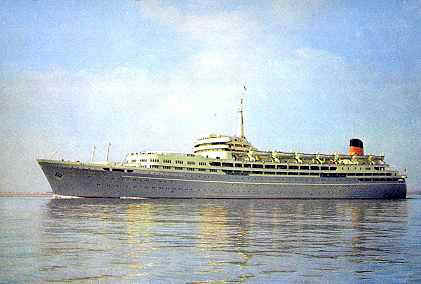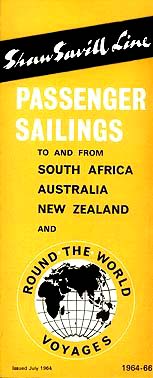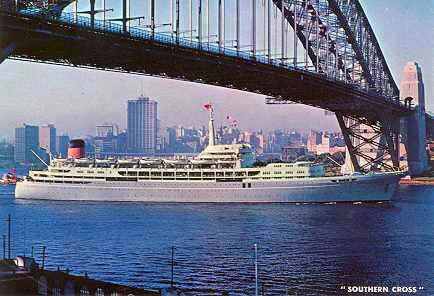 A rare encounter, the older Dominion Monarch & Southern Cross are berthed side by side
in Wellington New Zealand
Interior and Exterior's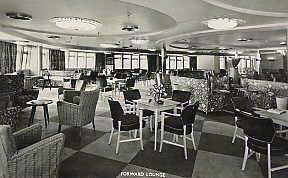 The Forward Lounge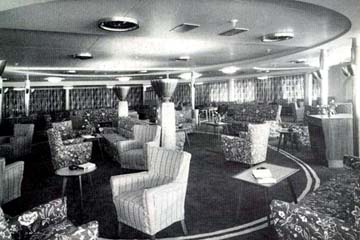 The Forward Lounge Refurbished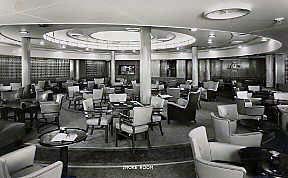 The Smoking Room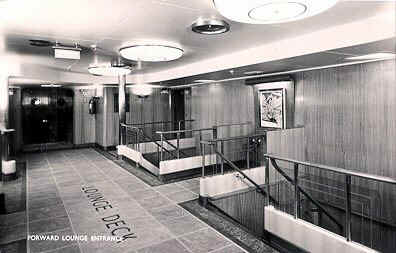 Lounge Deck - Forward Lobby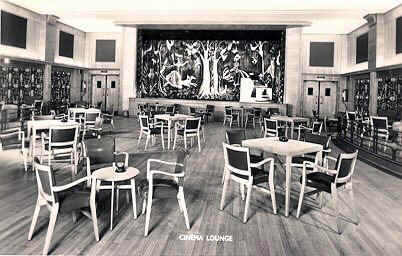 Cinema Lounge / Ballroom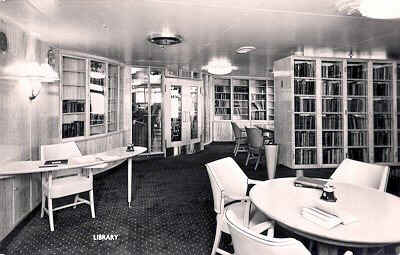 Above & Below: The Library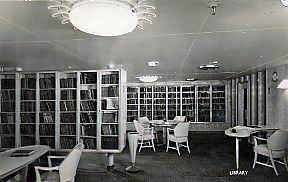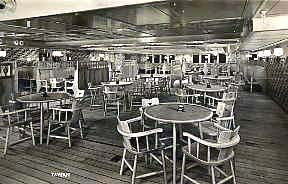 The ever-popular Tavern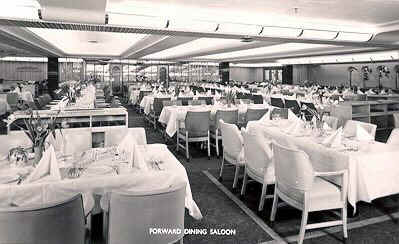 Forward Restaurant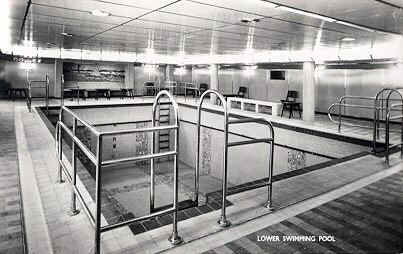 Indoor Swimming Pool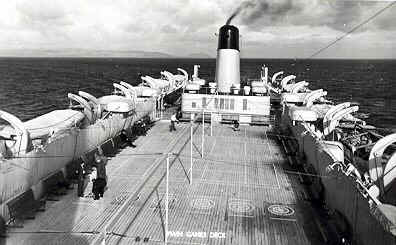 Sports Deck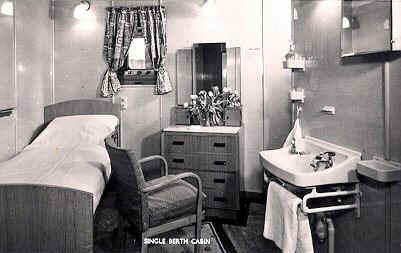 Single outside cabin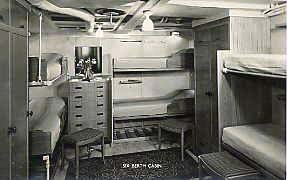 Six berth cabin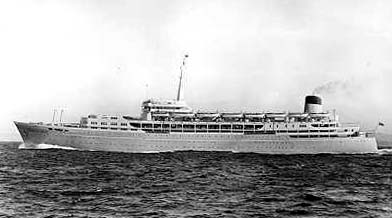 All at Sea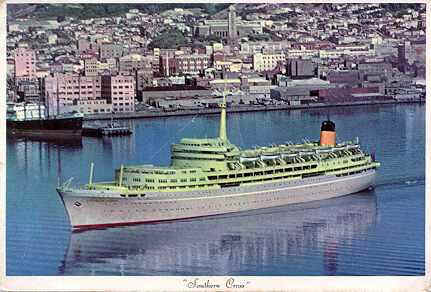 Arriving in Wellington New Zealand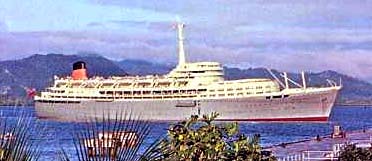 Southern Cross cruising the South Pacific

Unlike the Southern Cross, the Northern Star, built in 1962 had a rather short thirteen-year life span.
She was broken up in Kaohsiung in 1975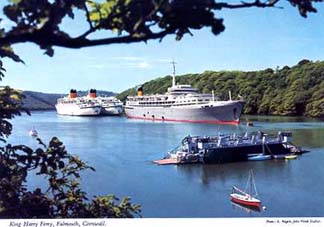 Above: Southern Cross seen laid up on the River Fal, with two Cunard liners at her stern. These were, the Carmania, ex Saxonia, sold to Russia to become the Leonid Sobinov, and the Franconia, ex Ivernia, also sold to Russia to become the Fedor Shalyapin.
The Southern Cross was sold in January 1973, to Cia de Vap Cerulea SA, Ithaka, on behalf of Ulysses line Ltd, for half a million UK pounds, and was renamed ss Calypso.
Return to the Southern Cross / OceanBreeze Index
Next Page … Southern Cross Album 2
**************************************************
Use the Back button on your browser or Close the Page to return to the previous page
or go to our INDEX
Who is the Author of ssMaritime?
Commenced in the passenger Shipping Industry in May 1960
ssMaritime.com & ssMaritime.net
Where the ships of the past make history & the 1914 built MV Doulos Story
Also visit my …
"Save The Classic Liners Campaign" & "Classic Ocean Voyages" pages
Photographs on ssmaritime and associate pages are by the author or from the author's private collection. In addition there are some images that have been provided by Shipping Companies and private photographers or collectors. Credit is given to all contributors. However, there are some photographs provided to me without details regarding the photographer/owner concerned. I hereby invite if owners of these images would be so kind to make them-selves known to me (my email address may be found on www.ssmaritime.com only), in order that due credit may be given. I know what it is like, I have seen a multitude of my own photographs on other sites, yet these individuals either refuse to provide credit or remove them when asked, knowing full well that there is no legal comeback when it comes to the net. However, let us show these charlatans up and do the right thing at all times and give credit where credit is due!
This notice covers all pages, although, and I have done my best to ensure that all photographs are duly credited and that this notice is displaced on each page, that is, when a page is updated!
ssMaritime is owned and © Copyright 2010/12 - by Reuben Goossens - All Rights Reserved